Up to 400% Profits with Trader's Bay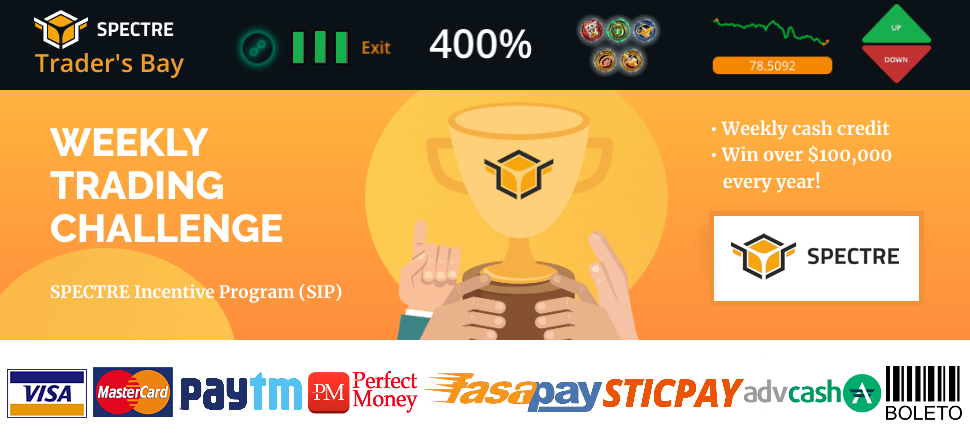 Spectre.ai's Trader's bay is a unique feature enhancement portal where you can change the default trading settings for an extra fee. Some of such available enhancements are, ability to increase the trade size, ability to unlock more assets, ability to decrease the default minuimum trade size as well as ability increase the profit payouts up to 400%. If you are a high volume trader, you will also eligible for a weekly prize based on trading volume with the Spectre Incentive Program.
Spectre Trading App allows an Unprecedented Trading Experience
Indian traders can enjoy easy desposits and fast withdrawals with your favourite payment method. It could be either your credit/debit card or your favourite e wallet such as Paytm, Jio Pay, PhonePe, UPI, India Netbanking or AdvCash wallet. Apart from these payment options, you can also use popular cryptocurrency such as Bitcoin and Ethereum to fund your Spectre.ai account. You can also trade directly with Spectre platform by using your own metamask Ethereum wallet with the Wallet account mode and no deposit is required to the trading platform.

Unlike other trading platforms, Spectre will never delay your profit withdrawals for weeks or months. Typically, all KYC passed traders will get their withdrawals within one or two business days.

Free demo account helps you to test our trading platform and it's features with no deposit required until you decide to trade with real money. This demo account can be easily refilled with demo money and you can use it for free forever.

Spectre offers number of asset classes to trade with. This includes innovative asset classes such as EPICs and reverse futures that you can trade 24/7 with higher profit payouts compared to traditional asset classes such as spot forex. Exclusive features such as emotional control settings, capital protection feature and trade early close feature helps you to reduce the negative risks when you trading using the Spectre trading app.

If you are a binary options signals provider who can create trading bots, you can create a signals or trading bot using the Spectre API. This could be an attractive feature for Indian binary options trading signals group owners who want to offer automated trading bots or signals for their followers.