Enjoy more Benefits with Trader's Bay and Spectre Incentive Program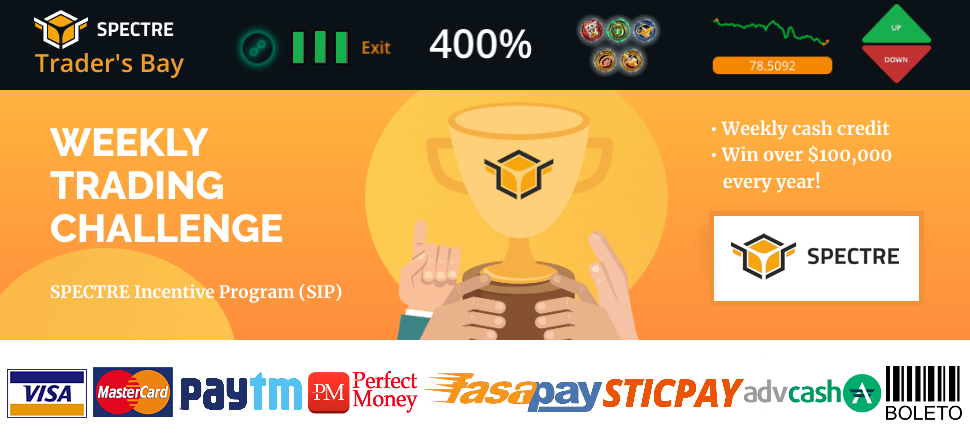 With the options available in Trader's Bay, you can enjoy higher trade sizes, higher payouts up to 400% as well as lower spreads. Spectre Incentive Program is designed to reward the most active traders based on trading volume.
Exclusive EPIC and Reverse Futures Asset Classes allows 24/7 Trading Experience
Enjoy easy deposits via world's leading e-wallets to use our platform with the regular account. Wallet account allows you to trade without depositing with us while the other DeFi Boost wallet allows you to deposit using popualr Defi coins such as USDC and PAX. While our competitors have just one account type, we offer three account types as well as a free demo account.

You will trade against a giant liquidity pool initiated by Spectre investors. Therefore you don't have to worry about the reliability of the platform as your good performance won't hurt Spectre balance sheet like other competitor brokers.

Demo account helps you to familiar with the platform and it's completely free to use. It won't take more than 2 minutes to register for a demo account.

Spectre.ai offers you a wide range of assets including most popular currency pairs such as EUR/USD, GBP/USD, USD/JPY, USD/CHF. Features such as emotional control settings allows you to minimize the risks of loosing. Our platform consists of essential indicators such as bolliger bands, alligator, MACD, RSI, moving average, parabolic SAR, ichimoku clouds,ADX etc. You can also try Application Programming Interfaces (API) to automate your strategies.

You can analyse your past performance through the analytics section which consists detailed statistics regarding your volume, ROI etc.